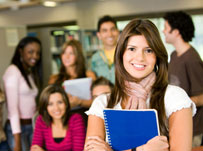 For any non-native speakers wanting to live, work or study in an English-speaking country, a qualification such as IELTS is almost indispensable. The world's most favoured test of English proficiency, IELTS (International English Language Testing System) is recognised by universities and employers as well as professional, immigration and governmental bodies – putting you at a huge advantage whatever your objectives in your new host country.
With full awareness of the importance of IELTS, Cactus offers a vast range of IELTS exam preparation courses across the UK, to suit all needs, budgets and time allowances.
There's no denying the allure of iconic, cosmopolitan London, boasting easy transport links and endless shops, nightlife and theatre right on the doorstep. Students coming here have the choice of 1, 2 or 4 week minimum courses in some of the capital's best districts, including Soho, Islington and Wimbledon. Although the courses are academic, preparing students fully for their exam at the end, there is plenty of opportunity to enjoy the best of what London has to offer through the schools' activity programmes and excursions in and around the capital.
Those wishing to experience another side of England have the choice of some fantastic cities in the North and South of the country. The prestigious cities of Oxford and Cambridge are ever popular, as is laid-back and trendy Brighton – while those willing to brave the more inclement weather of the north will be rewarded with cheaper prices, friendly locals and a great student atmosphere. Liverpool, Manchester, Nottingham and Sheffield are all great alternatives to London, with courses available from just one or two week upwards.
Cactus goes beyond booking your course, however. Over the years we have built up a strong, in-house academic team, and as a student you can come to us for valuable academic support should you want to chat about your IELTS progress at any point.
You can also rely on us for fair, non-inflated prices and visa support for non-EU students.
There is no doubt that preparing for an IELTS exam will open the door to you in a number of ways – be it to further your studies, increase your job opportunities or simply master your written and spoken communication in English. With Cactus' impressive range of locations and courses, and their own team of academics on hand to help and advise, taking the next step to English language fluency has never been so easy.



Quick Links to IELTS Courses in the UK:
London:

• Russell Square (4 week minimum course)

• Euston (4 week minimum course)

• Wimbledon(2 week minimum course)

• Kings Cross (1 week minimum course)

• Soho (1 week minimum course)

• Islington (part-time course)
Regional SOUTH Courses:

• Bath (2 week minimum course)

• Brighton (2 week minimum course)

• Bristol (4 week minimum course)

• Cambridge (4 week minimum course)

• Cardiff (4 week minimum course)

• Oxford (2 week minimum course)
Regional NORTH Courses:

• Liverpool (1 week minimum course)

• Manchester (1 week minimum course)

• Nottingham (2 week minimum course)

• Sheffield (2 week minimum course)
Cactus specialises in organising language courses for individuals and groups, having done so since 1999 for clients all over the globe and for diverse needs and budgets. Our expertise in the field of face-to-face tuition is second-to-none. With an extensive network of approved teachers and a strong in-house academic team, we are able to tailor a language course to suit your specific learning needs, anywhere in the world and whenever is convenient to you.

https://www.cactusworldwide.com/blog/wp-content/uploads/2013/03/IELTS.jpg
151
203
Sarah Watkins
Sarah Watkins
2013-03-19 10:55:36
2013-09-19 10:04:55
IELTS Courses in the UK