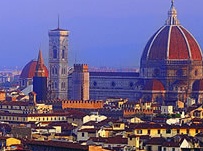 Shirley Critchley tells us about her week-long language holiday in Florence, Italy, and how it has given her even more of a passion for the language, culture and the beautiful country itself
Shirley Critchley is a private tutor of Spanish and French in the North West of England and has always had a flair and enthusiasm for languages since her school days. Shirley started studying Italian in 1999 after falling in love with the Italian language and after several holidays to the stunning Lake Garda. She took her Italian GCSE but did not feel confident enough to teach privately to adults.
As the requests for her language tuition were pouring in, she decided to take a language holiday abroad in Italy. This would be her first trip alone since sadly losing her husband the previous year. With so many recommendations for Florence as a fantastic destination to visit – with quality Italian tuition, free time to explore the beautiful sites and soak up the rich culture, and plenty of delicious Italian food and wine to enjoy! – this seemed the perfect opportunity for Shirley to improve her Italian and enjoy a relaxing holiday. Her mind was made up.
Shirley really liked the local Italian language school, as it was easy to find in a lovely building overlooking the Arno River, just up from Ponte Vecchio. The teachers and staff were very friendly and dedicated to improving their students' Italian. Being a private tutor in Spanish and French and looking to tutor in Italian, Shirley really enjoyed the Italian language lessons as she was able to pick up many tips for her own lessons. She also liked the way the Italian lessons were structured and how they were pitched at the right level for the whole class.  Her class consisted of her and six other students – a  couple from the Ukraine, a man from Israel and three women, one from Belgium, one from Japan and one from South Africa.
The main focus of the lessons was on conversations and listening which made the language learning experience practical, with real life scenarios and Italian phrases that included language games and listening exorcises. Shirley really appreciated the full immersion teaching experience and thought it made a huge difference to her overall learning and language progression – not to mention her much increased confidence as the week progressed.
Shirley made the most of her language holiday by exploring Florence and the local area and speaking with native Italians at every possible opportunity, from ordering in restaurants to asking directions. The Italian people were so helpful that one gentleman even helped her with her homework!
Shirley particularly enjoyed travelling to Florence in February as the climate was cooler and allowed her to climb the 414 steps of The Duomo (Basilica di Santa Maria del Fiore), the main church in Florence, which offers stunning views of the city and the surrounding mountains.
Shirley particularly enjoys holidaying in Italy due to the friendly and welcoming nature of the Italian people and the laid back lifestyle and, when asked if she had any travel tips for future students wanting to study in Florence, she said 'Use every possible opportunity to speak the language'. She also found staying in accommodation near to the train station allowed her to explore the surrounding area with ease.
Shirley felt most inspired by the way her native Italian teacher included everyone in the classroom; particularly being a teacher herself, she can understand how difficult this can be and is now using some of the teaching methods in her language lessons back home in the UK. She continues to study Italian at home and is hoping to take another language course next year as she learned so much in such a short space of time whilst on her language holiday abroad. All in all, she would highly recommend a language course abroad to anyone looking for an adventure!
Many thanks to Shirley for taking the time to tell me about her experience and to hopefully inspiring others to do the same.
If you would like to learn more about Shirley Critchley's language holiday abroad in Florence then she has written a detailed blog of her experiences.
The photo at the beginning of this article was kindly contributed by Shirley; she took it whilst at the top of The Duomo, Florence, Italy.
https://www.cactusworldwide.com/blog/wp-content/uploads/2013/09/florence_view.jpg
151
203
Lucy Brand
Lucy Brand
2013-04-20 12:43:42
2014-07-03 12:47:45
Italian Language Course in Florence: A great way to learn the language and discover a beautiful city