There are few places that outshine Europe when it comes to the sheer variety of culture, languages and food on offer in such a compact space.
And for those looking for a break in the early months of the year, this is exactly what you need – warm, welcoming cafés, museums chock-full of treasures and galleries brimming with cutting edge art, all ready to work their charm regardless of the weather outside. Then as we creep towards spring these same European cities come into their own, offering up delightful mazes of cobbled streets, large green spaces and riverside or beachside walks to help us make the most of the longer days.
Look no further if you need inspiration for a European break over the coming months: here are our top 4 recommendations for the best language learning destinations in Europe.
1. Valencia, Spain
Spain's third largest city sits on the Mediterranean coast and is blessed with a glorious climate, fun-loving inhabitants, delicious food (being the birthplace of paella) and an innate ability to throw a good party. Time your Spanish language holiday in March and you'll be utterly mesmerised by the explosive Las Fallas festival, one of the world's most impressive pyrotechnic displays accompanied in all its glory by sculptures, traditions, music and satire. This year's dates are March 15th-19th. Outside Las Fallas, make sure you don't miss a walk through the labyrinthine cobbled streets of El Barrio del Carmen, not just to admire the imposing medieval buildings of this charming district, but because by night this becomes one of the liveliest places in the city to go out. Frequented by tourists and students alike, this is the perfect place to practise your Spanish over a plate of tapas! Valencia also boasts a long list of must-sees (including Veles i Vents by the port and the Cuidad de las Artes y las Ciencias), a flourishing restaurant scene, lively nightlife, great shops and, of course, miles of golden beach. Little wonder this is fast becoming our hot new place to learn Spanish.
2. Berlin, Germany
It's over twenty years already since the fall of the Wall, and although Berlin will always have huge historical and political significance, this is a city that has unreservedly thrown itself into its future with barely a backwards glance. What we have now is an energetic, modern and edgy capital city that is the epitome of 'cool'. Whatever you want, you have it. An open-air museum with famous landmarks at every turn, world class museums and galleries, striking street art, insatiable nightlife, hip flea markets, food of all ethnicities…in Berlin you can do what you want and, above all, be who you want. The great thing is you can take a German course in Berlin for as little as a week and this will give you a brilliant insight into this fascinating city – even more so if you stay with a local family. This is our most popular place to learn German and you'd be hard pushed to find somewhere more exciting to learn a language.
3. Aix-en-Provence, France
Ohh, we sigh, as we think of Aix. As the days start to stretch out, thoughts of a languid provençal lifestyle trigger something deep in our psyche, the part that yearns to pluck sun-warmed fruit from a local market, sip steaming coffee from an umbrella-decked 'terrasse' and wander carefree down cobbled streets and leafy boulevards. Artists such as Cézanne have long been known to settle in Aix for its stunning landscapes and light. Linguists have long been attracted here as you cannot help but want to learn French in Aix's inspiring surroundings. Find out what all the fuss is about with our French & Discover Provence Course, the perfect opportunity to learn the language and meet like-minded people whilst enjoying all that the city has to offer. Or why not indulge your passion for French cuisine with a French & Provençal Cooking course (next start date 17th March) or enjoy the finer things in life with our French & Wine Tasting course. Santé!
French courses in Aix-en-Provence
4. Paris, France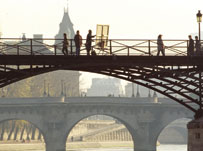 Paris has, and always will be, a magical city. It's a chic European capital often chosen as a weekend escape, but scratch the surface and you'll find it's so much more than the picture-postcard Eiffel Tower and Arc de Triomphe we all know and love. Bohemian Montmartre, avant-garde Montparnasse, the high-brow Latin Quarter…each arrondissement tells a different story, local bistros and hidden bookshops as essential to Paris' personality as the high heels and short skirts of the Moulin Rouge. Year after year Paris is one of our most popular locations to learn French, partly thanks to our vast range of French courses across three schools which ensures we have the right course for you. From intensive mini-group courses to Saturday courses and A Level Revision courses (next start date February half term), studying French in its iconic capital city has never been so easy.
Cactus offers language courses for all ages and levels in locations across the world.
https://www.cactusworldwide.com/blog/wp-content/uploads/2014/01/berlin-column.jpg
151
203
Sarah Watkins
Sarah Watkins
2014-01-30 16:34:06
2014-02-04 09:39:18
The best of Europe: our top locations for 2014