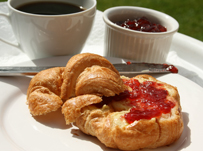 Salut, je suis Laura et j'apprends français à Brighton.
I have always loved the French language and studied it for numerous years at school. I had thought I had a reasonable grasp of it – that is until I visited Paris last year and stayed with some friends. I found the ability to repeatedly ask for the location of the toilets and to describe my love of swimming at the swimming pool only gets you so far. So when Cactus offered the Beginner 1 French class at their St Giles centre in Brighton, I jumped at the chance!
I am so pleased that I did now – going back to basics has proved so incredibly useful.  We were quite a large group, which was initially quite nerve-wracking (I am not a confident public speaker!). My classmates were of all ages and came from a variety of different backgrounds – some were learning French as they had family and friends in France whilst others took it up as a challenging way to occupy their Wednesday evenings. We were eased into the lesson with a couple of ice-breakers, which included greetings and a fun bingo-style number game. After a short space of time, I felt comfortable piecing together short sentences in French to my allocated partner and then onto the whole class.
We covered a lot of ground in the next few weeks, from learning nationalities to describing what we do at work. However, we eventually had to cover the most formidable subject matter for a native English speaker… le grammaire! It turns out that I had nothing to worry about – our teacher guided us through the different conjugations clearly and concisely, testing us on our new-found knowledge every so often. I can now proudly say that I have the ability to conjugate all (regular) verbs… magnifique!
Learning French with Cactus has been such an enriching experience. Yes, two hours of French on a Wednesday evening after a long day at work can be a little daunting, but the time flies by once you're in the classroom. If you are thinking of joining an evening course, I would highly recommend committing to a couple of hours a week of self-study outside of the lessons.  It is very important to reinforce the information you take on in class.
I am now enrolled on the Beginner 2 course with the same teacher and I am greatly enjoying it. Although I struggle with certain aspects (such as gender – seriously, why is a table a woman…?!), I really feel like I am making great progress. So much so, I will be trying my luck communicating with others in Paris next month, where I have enrolled on a week-long intensive course.
Merci beaucoup, Cactus!
Laura is Corporate Client Liaison Officer at Cactus and she took a 10-week French evening course in Brighton. Cactus offers part-time and evening language courses in a variety of languages and at various levels across the UK and the US.
https://www.cactusworldwide.com/blog/wp-content/uploads/2014/02/french-croissant.jpg
151
203
Sarah Watkins
Sarah Watkins
2014-02-06 15:04:44
2014-03-13 10:20:54
French evening course in Brighton: Cactus staff review