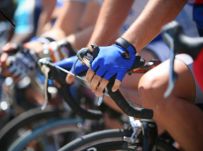 Shift your language up a gear with our French cycling vocabulary for this year's Tour de France
Kicking off on 4th July 2015, top cyclists and cycling enthusiasts from all over the world will congregate on French soil for 21 days of gruelling, thigh-burning action that will cover over 3,500 km of mountains, valleys, remote countryside and busy cities. Although the course route changes each year, the race always finishes in Paris, with riders cruising to the finishing line, cheered on by thousands of supporters, along the famous Champs-Elysées.
It's hard not to get into the spirit of things – even if you're not a huge cycling fan – if you happen to be in a part of France where the race passes through. For the French the Tour can be an excuse for a great party, and the sense of anticipation is contagious. Families set up picnic tables at the side of the road to wine and dine, the adults sipping wine patiently in the shade whilst the children play around them, waiting for the riders to pass through. When the drone of the helicopter finally announces the arrival of the front riders, everyone jumps to their feet and prepares to applaud the multi-coloured lycra-clad bodies flying past – a true spectacle in itself, to say nothing of the countless publicity vans, police bikes, camera bikes and support cars that follow. You can support the race anywhere along the way by checking out the Tour map online.
Whether you're watching the race live in France or on television at home – or even planning a cycling holiday yourself to France – you'll impress your friends by picking up a few cycling terms to shout out at opportune moments.
Here's our list of essential Tour de France vocabulary:
| | |
| --- | --- |
| Le cyclisme | Cycling |
| Un cycliste | Cyclist |
| Un domestique | Support rider |
| Un échappé | Breakaway rider |
| Le peloton | Pack / bunch of riders |
| La tête de course | Leader of the race |
| Une équipe | Team |
| Une étape | Stage / leg of the race |
| Contre la montre | Time trial |
| Le parcours | Route |
| La course | Race |
| Une montée | Uphill slope |
| Une descente | Downhill slope |
| Changer de vitesse | Change gear |
| Ralentir | Slow down |
| Dépasser | Overtake |
| Un vélo de course | Racing bike |
| Un vélo tout terrain | Mountain bike |
| Une crevaison | Puncture |
| Un bidon | Water bottle |
| Un casque | Helmet |
| Le maillot jaune | Yellow jersey (worn by the overall leader) |
Get up close to the action by taking a language course in France this July! Cactus runs French language courses in 15 locations across France, including Paris and other locations near to the Tour route.
If you can't make it to France this year, why not learn the language closer to home? Cactus also runs French evening courses in London, Brighton, Manchester and other major UK locations.
https://www.cactusworldwide.com/blog/wp-content/uploads/2011/06/cycling.jpg
151
203
Sarah Watkins
Sarah Watkins
2015-06-25 14:27:51
2015-11-26 21:54:16
Tour de France: Essential cycling vocabulary this July