Cactus recently sent a 13-year-old boy on a Junior French Course in Montpellier. Here, his father gives feedback from a parent's perspective and describes the importance of giving a child the gift of another language.
"Caspar attended the school at Montpellier when he was 13 (he will return for a fortnight this year). It is, and was, a big step for him – his first taste of semi-independence and that within an foreign culture. He had doubts before going, but thoroughly enjoyed. His words to me were 'At home I am Caspar with the shocking blond hair, and am treated according to what people think I am. In Montpellier, I could be what I wanted to be. It was freedom'. The cultural experience was / is as important to me as the linguistic experience – there were students there from several countries and continents.
He stayed with Mme Meson, an excellent guardian who took care of Caspar. He will return to her this coming Summer. She has little English; or rather she chooses to use little English, thereby offering a semi-immersive experience in a home environment.
Regarding Caspar's French, he had only a very basic knowledge before last year's course (and his French is still elementary). However, he came away with a nascent understanding of grammar and a basic ability to understand spoken French, but lacking the confidence to communicate in the language – this bridge obviously takes some time to cross. He said that those who had spent several weeks at Montpellier had indeed succeeded in crossing into fluency – a matter of time and money.
My son is not overly gregarious. However, I hope that returning for a fortnight, to a familiar regime and place will give him further confidence to open up and attempt to communicate. On the back of this year's course he will fly straight from Montpellier to stay with a family in Nantes. They have little English and so he will be forced to use the skills he will acquire in Montpellier.
Would you recommend a Junior French Course?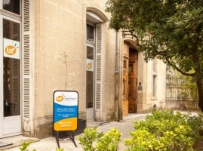 Yes, I would recommend the course as it offers a young adult both a personal and socio-linguistic learning curve within a regulated environment. Caspar was not the youngest student last year: there were 12 year olds at Montepellier, some more confident than others. It's all a question of maturity. Any 12 year old will be amongst 14 / 15 year olds and there is, as you know, a huge difference in slight age differences during the teenage years. To be honest, I was more nervous of letting him go last year, than he was of going – both vigilance and homesickness were issues. The same is true this year; he is only just 14. There are always risks. But, these, we felt, were minimised last year as we always had the assurance that a family friend lived in Beziers (a short drive away). I also had some email correspondence with Mme Meson prior to his visit and she seems a good sort (which through experience, was proved and she was a delight to meet).
This year, he will fly out alone and without a family friend in close proximity. However, he will be  returning to familiar territory. We also feel more confident as we have faith both in Cactus (Laura is always helpful) and Mme Meson. Plus, he's truly looking forward to going – which is a motivational triumph for a 14 year old boy.
Obviously being a minor poses logistic problems as only certain airlines allow children to travel unaccompanied. Air France do and they have a buddy facility (for which you pay extra) which ensures their safety, easyJet also allow children but, correct me if I'm wrong, not if under 12 and unaccompanied. Last year, Caspar travelled out with our family friend and I picked him up – an opportunity to meet Mme Meson and practice the limited French I possess.
The gift of another language
Our hope, when sending Caspar to France, is that we are giving him the gift of another language. We in Britain are bullishly monolingual which, in our opinion is not a good thing (Caspar is also studying Japanese). I'm sure this is partly why you might be considering sending your child to Montpellier. Whatever you decide, I hope they will, one way or another, realise your linguistic ambition for them."
Thank you to Ian for taking the time to give us his valuable feedback on Caspar's Junior French Course. We look forward to sending Caspar to France again this year.
Caspar took a Junior French Course in Montpellier with host family accommodation. There is also the option to take a Junior French Course with residential accommodation. Both courses include 20 French lessons each week, an exciting programme of activities and excursions, all meals and full supervision. Contact us or visit our website to find out more about our Junior language courses and summer camps.
https://www.cactusworldwide.com/blog/wp-content/uploads/2015/08/Junior-language-course-Montpellier.jpg
200
289
Sarah Watkins
Sarah Watkins
2015-08-27 12:54:44
2015-11-26 14:16:40
Junior French Course Feedback: Montpellier