The UK is a consistently popular destination when it comes to learning English. With a wide variety of landscapes, people, cultures and accents within a relatively small area, you get a lot for your money when you book an English course in the UK.
With so much on offer, it can be hard to know which is the right location for you. With this in mind we're bringing you our 10 best places to learn English in the UK, to help you compare, choose and plan your trip. These are also the locations where you will find the best IELTS exam preparation and business English courses, which you will see links to below.
1. London
An English course in London or an IELTS exam course in London is an experience you will never forget. England's vibrant, historic and multi-cultural capital has so much to offer students of all nationalities that it is unsurprisingly our most popular location to learn English in the UK. The large number of schools in London means that there is a course for everyone, no matter your age, level or budget, and the activities on offer outside class are infinite, ranging from cultural and sporting to entertainment, shopping, nightlife and more. Your London English course is the perfect way to experience one of the world's most exciting cities. And for those wanting to take the reputable IELTS test, we offer a choice of long, short and part-time IELTS preparation courses in London.
IELTS exam preparation course London
Business courses in London for executives and professionals
2. Brighton
"London by the sea" is what they call Brighton, and if you take an English course in Brighton or an IELTS exam course in Brighton you will certainly be getting the best of both worlds. Buzzing city life accompanied by fresh air and great views – the sea in one direction and the picturesque hills of the Downs in the other – is a unique and enviable combination. On top of this you can expect a laid-back atmosphere, an emphasis on an outdoors, sporty lifestyle and top notch arts and cultural events. Come to learn English or take your IELTS preparation course in Brighton and you'll realise that it's a city unlike any other, and one that year after year attracts British and foreign students for courses and holidays.
IELTS exam preparation courses Brighton
Business courses in Brighton for executives and professionals
3. Oxford
Oxford has earned itself a reputation as an academic centre of excellence, as much for students attending its prestigious university as for foreign students wanting to learn English or take an IELTS exam course at one of its many language schools. Wherever you come from you will have doubtless seen images of the city's historic architecture, rising spires and attractive cobbled streets, and in real life it is every bit as beautiful. Take an English course in Oxford or an IELTS preparation course in Oxford and you can proudly be part of the city's flourishing student life, with plenty of opportunity to practise your English outside class, be it to rent a bike or have a pint in one of the city's traditional pubs.
IELTS exam preparation course Oxford
English mini-group executive course Oxford
4. Manchester
One of our most popular UK cities, Manchester offers a good dose of British northern life mixed with first-class entertainment facilities, abundant sporting opportunities, excellent shopping and no end of places to eat and socialise. As a place to learn English, it is modern and exciting, with a rich historical and cultural heritage. Take your English course in Manchester and you will quickly get caught up in all that there is to do, yet should you ever want a slower pace of life, the scenic Pennine Hills are just on the doorstep waiting to be explored.
Business English course Manchester
5. Cardiff
Here's a little secret: if you are looking for a place to learn English that is a little different, a place of stunning river valleys, pristine sandy beaches, rugged landscapes dotted with castles and supremely warm, friendly people, you must come to Wales. This small but magical country will steal a little piece of your heart before you know it. Take your English course in Cardiff and you can enjoy all that a thriving capital city offers, with the stunning Welsh countryside easily explored on weekends with friends that you make in class. The Welsh accent is often described as melodious, with a distinctive musical intonation – and although English is spoken everywhere, you may even find you pick up a few words of Welsh!
6. Cambridge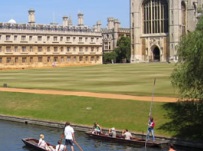 Cambridge is famous the world over for its prestigious university, unique traditions and active student life, meaning you are just as likely to see a student with his or her nose in a book as you are punting down the river beneath bridges and willow trees. For a place so well known, Cambridge is surprisingly modest in size, making it easy to get around and lending a friendly, intimate feel to the city – ideal for practising your English with the locals. As well as learning English, taking your English course in Cambridge will give you a great insight into the British culture and, with its central location, easy access to the rest of the UK.
7. Liverpool
It's not just the innovative language school in the heart of the city that attracts students to learn English in Liverpool – although this could be reason enough if school and course are paramount to you. With contemporary learning facilities, quality teaching and outstanding value for money, you are in excellent hands if you take your English course in Liverpool. And this is without even mentioning all that Liverpool has to offer. Whether you're after music, culture, legend or sport, you can't help but be swept up in Beatles mania, football frenzy and cultural utopia, making this lively northern city an unforgettable place to learn English.
8.  Bristol
Located in England's picturesque south-west, Bristol is a wonderful – but often overlooked – location for students wanting to learn English. Known as the cultural centre of the West of England, it has struck the perfect balance between a buzzing student life, attractive surroundings (leafy Georgian streets, meandering waterways and a thriving waterfront) and a fantastic nightlife. As a student taking an English course in Bristol, you can expect to be treated as an individual at the supportive, family-run English language school, but not have to vie with hoards of foreign visitors as you might in other UK locations.
9. Bath
With picture-postcard views everywhere you turn, you can't help but fall in love with Bath, a beautiful city in England's south-west. Perfect sand-coloured rows of Georgian houses, wide tree-lined crescents and quaint boutiques line the cobbled streets and the sparkling River Avon winds gently through the centre. It has an upmarket, wealthy feel, but the large number of students at its university add a young and lively element. If you take an English course in Bath you will inevitably visit the famous Roman Baths, but there's plenty more to do here and you'll soon discover why it's such a popular place to learn English.
10. Edinburgh
Scotland has a distinct identity that shines through in its history, culture, traditions and accent, all of which combine to offer the most fascinating language learning experience. Take your English course in Edinburgh and you'll soon see that it's best discovered on foot, with attractive Georgian streets, impressive statues and countless cafes leading you to famous landmarks such as Edinburgh Castle, Princes Street and The Royal Mile. Time your trip in the summer to catch the dazzling Edinburgh Festival or join in the unmissable Hogmanay celebrations at new year. Whatever you do, life north of the border certainly won't disappoint.
Cactus offers a variety of English courses across the UK and in other countries worldwide. Courses include General English, Business English, Academic Year programmes, exam preparation courses and Under 18s summer camps.
https://www.cactusworldwide.com/blog/wp-content/uploads/2014/03/UK1.jpg
152
203
Sarah Watkins
Sarah Watkins
2015-04-22 10:50:11
2015-07-29 16:33:04
The 10 best places to learn English in the UK