Welcome to the September edition of the Cactus Worldwide blog! This month we're taking you behind the scenes to meet the people behind two of our most popular partner schools…
Hello, and welcome to September's edition of the Cactus Worldwide blog! My name is Ollie, and I am Product Manager for our agency, Cactus Worldwide. Our team of experienced course advisors are here every day to discuss options with you and help set up a varied range of unique language-learning experiences, all over the globe, throughout the year, for all of our wonderful students.
This month's blog is aimed at letting you take a look at some of the people behind two of our most popular partner schools in Europe – The Language Centre in Denia, on the east coast of Spain; and Centro Fiorenza on Via di Santo Spirito in the heart of Florence, Italy.
If you have any questions about anything you read here, please feel free to contact me directly via oliver.donovan@cactusworldwide.com and I'd be happy to answer any questions.
1. Spanish in Denia with Cactus Worldwide & The Language Centre
Firstly, please meet Mari Carmen Timor, the Principal of The Language Centre, situated in the historic part of Denia on Carrer de la Barbacana! TLC is a comfortable, modern and spacious school, fully equipped with wi-fi, audio-visual equipment, air-conditioning and drinks machines. It is an ideal location for families, individual adults or juniors all year-round, with a range of course and accommodation options to suit students of all shapes and sizes.
Denia is located half-way between Alicante and Valencia on the east coast of Spain. Still not sure? Click here to see its exact location on Google Maps.
Here is what Mari Carmen has to say about her school, and why it's worth considering a visit to Denia this autumn/winter:
Who are you?

My name is Mari Carmen Timor and I am currently the FEDELE president for the Valencian region of Spain, as well as school principal at TLC Dénia Spanish school (Dénia, Valencia). My personal philosophy is that it is important that students experience everything there is about a language, its people and their culture, as well as a receiving a high quality education.
How long has TLC Denia been in operation?
TLC Dénia first opened its doors in 1994 and since then I have strived to continuously stay at the forefront of teaching methods, along with keeping our accommodation satisfactory and our range of activities interesting. We specialise in offering families travelling with children the opportunity to learn the language together. For those students who want to experience a relaxed and friendly city, where they can integrate with the local people and their culture, TLC Dénia is the ideal place for studying Spanish.
What's happening at TLC Denia this autumn, and why should students come to Denia and take a Spanish course?

As autumn falls I think many of us consider taking on new challenges in our lives, and for those who wish to learn or improve a language it is a fantastic time to start. The summer heat wanes making way for that magical change of light that autumn brings. The streets that were before filled with tourists now have a nostalgic calm about them.
Far from looking like a shadow of summer, Dénia thrives with the sound of its kitchens. Its wide range of restaurants makes the low season months absolutely perfect for those of our students who wish to enrich their stay with the best quality food.
For students who are nature lovers, Dénia and the surrounding area in the autumn offers wonderful mountain scenery with extensive trails of varying difficulties through breathtaking terrain, suitable for hiking or cycling. 
Not forgetting, of course, that Dénia is dominated by the 'Montgó', a 750-metre mountain remarkably similar to 'Table Mountain' in Cape Town, South Africa. It is a truly spectacular sight.
Due to all of this and much, much more, studying in the autumn months is a fascinating experience both inside and outside the classroom. And thanks to a select set of activities, our students always have a broad view of authentic life and customs here in Dénia.
2. Italian in Florence with Cactus Worldwide & Centro Fiorenza

And now, please meet Augusto Merlini, the owner and Director of Centro Fiorenza in Florence! Centro Fiorenza is a medium-sized school that hosts 120+ students during the high season, and a few more even at their sister school on the Isle of Elba (2014 dates and prices will be up soon!). The school prides itself on providing a welcoming, family atmosphere in an international environment, and attracts consistently excellent feedback from our students.
Centro Fiorenza is located on Via di Santo Spirito, slightly set back from the Arno in the centre of Florence. Still not sure? Click here to see its exact location on Google Maps.
Here is what Augusto has to say about his school, and why it's worth considering taking a trip to Florence this autumn/winter:
Who are you?
I am Augusto Merlini, the owner and director of Centro Fiorenza – International House Florence. I have been running Centro Fiorenza since 1982, first as a teacher in Florence and then when we opened our summer school on Elba in 1984 I spent whole summers there teaching and entertaining our students. Now I am in charge of our marketing and promotion.
What's happening in Florence this autumn/winter?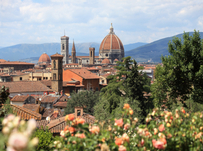 Are you an art lover? If so, then don't miss this exhibition! Forte Belvedere, the most beautiful exhibition space in Florence, has reopened after 5 years, with works by Zhang Huan. You can admire sculptures of enormous Buddhas and paintings with Huan's particular technique in ashes. To finish the show enjoy an "Aperol Spritz" or "Hugo" at sunset on the terrace overlooking the city on one side, then turn round and take in the breathtaking view of the Tuscan countryside on the other side.
Also don't miss a string of events in Florence and the Chianti region in September and October such as tasting Chianti Gallo Nero, Chianti Classico and Super Tuscans along with food of the region (Tagliatelle ai Funghi, Pappardelle al Cinghiale, the famous Peposo from Impruneta and many other specialties!).
And of course, you should also come and enjoy an Italian language course at Centro Fiorenza!
TI ASPETTIAMO A FIRENZE! – CIAO A PRESTO!
I hope this has been of interest, and may have given you some ideas for the colder months which are on their way! I've just had a peek at a few budget airline websites, and you can certainly still steal a return flight to Alicante, Valencia or Pisa in November or December for less than £100 – so it really is a great time to go. Happy planning 😉
Any questions, please feel free to contact me directly and I'd be happy to help.
Best wishes,
Ollie
—————————————————————————————————————–
Oliver Donovan
Agency Product Manager
Email: oliver.donovan@cactusworldwide.com
—————————————————————————————————————–
https://www.cactusworldwide.com/blog/wp-content/uploads/2013/09/florence_panorama.jpg
160
510
Oliver Donovan
Oliver Donovan
2013-09-26 10:26:14
2013-11-21 13:02:22
Cactus Worldwide Monthly Blog: September 2013