Fiesta time is upon us! If there's anywhere that knows how to throw a good party, it's Spain. These festivals are the perfect pick-me-up after the long winter months, and a great incentive to learn a little Spanish too!

1. Moros y Cristianos, Alicante: 21st-24th April 2015
Of the 150 or so locations in Spain to celebrate Moros y Cristianos, there is no beating the celebrations that take place in Alcoy, Alicante. The festival dates back to the 16th century and commemorates the Battle of Alcoy in 1276, when the Christian army of Saint George helped defeat the Moorish troops lead by Al-Azraq. In homage to St George, the people of Alcoy made him their patron saint and vowed to hold a festival in his honour each year…and what a festival it is. With 28 armies in mock battle, intricately-made costumes on show, a spectacular procession and breathtaking firework displays, the streets are full and the atmosphere is electric in this fitting tribute to the battle that expelled the Moors from Spain.
2. La Feria de Abril, Seville: 21st-26th April 2015

Little may need to be said about what is arguably Spain's biggest fiesta. The solemnity of Semana Santa the week preceding Easter is cast aside as the vibrant Andalucian city of Seville erupts into the much-anticipated April Fair, a week-long party of flamenco dancing, horse shows, bullfighting and more. This is Spanish fiesta at its best. The only problem is what to see and how to reserve enough energy to stay up all night and join the locals at what they do best – party, party, party!
3. Patios de Cordoba: 4th-17th May 2015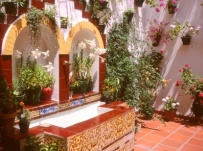 Exploring a city's streets is one thing, but knocking on somebody's door and entering through heavy wooden doors that are kept closed for 50 weeks of the year is a real privilege. And this is what Patios de Cordoba grants you – the chance to enter into the cool shade of private homes and feast your eyes on their patios which have been lovingly adorned throughout the year with all manner of flowers, plants and decorations. Lemon trees, geraniums, roses, carnations, fountains – the list is endless, but the colour and scent won't fail to impress, and nor will the chance to enter hidden corners of Andalucia away from the rush of modern life.
4. Horse Fair, Jerez: 10th-17th May 2015
You don't have to be a horse lover to enjoy Spain's best horse fair, the Feria de Caballo in Jerez. Taking place in its famous sherry-producing town, Jerez de la Frontera, could be incentive enough. Or maybe you'll be won over by the sight of impeccably-dressed locals riding through the streets and ladies dressed in bright flamenco dresses, ready to wow the crowds with their Sevillanas dance displays. But most of all you can't help but be impressed by the supreme skill and care taken to train and groom the horses that star in this annual show. If there is one performance not to miss, it's the Dancing Andalusian Horses – a true equestrian ballet, fully choreographed, accompanied by traditional Spanish music and costume. You'll swear you didn't know horses could do that type of thing…
5. San Isidro, Madrid: 15th May 2015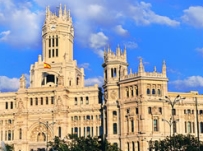 If you want to experience the most quintessential of Spanish traditions then head for Madrid during its San Isidro festival. Not only is this the world's most important bullfighting festival, it is also an excuse for flamboyant Spanish fiesta in the form of music, dancing, fairs and what is known as a romeria, or pilgrimage, to the shrine of Madrid's patron saint, San Isidro. Las Ventas bullring plays host to the much-anticipated bullfights, concerts are held in the beautiful Plaza Mayor to concerts, and Vistillas Park is transformed into an open-air dance hall. Book tickets to specific events in advance, or just turn up and soak up the exhilarating atmosphere.
Cactus offers Spanish courses in many locations across Spain as well in countries throughout Central and South America.
https://www.cactusworldwide.com/blog/wp-content/uploads/2015/04/patios-cordoba.jpg
151
203
Sarah Watkins
Sarah Watkins
2015-04-07 14:24:21
2015-07-29 16:34:53
Top 5 Spring festivals in Spain