Love is certainly in the air around Valentine's Day, but there are some places in the world that ooze charm every day of the year. With this in mind, here are our top 5 destinations for sharing a little romance whilst learning some of the local lingo.
1. Cologne, Germany
If you want a romantic European city break but something a little different from much-lauded Paris, then the German city of Cologne may just hit the spot. This is a place that inspires couples to fix padlocks to the railings of a bridge and, to ensure everlasting love, throw the key into the river below – and not just on Valentine's Day. As the river Rhine collects keys of all sizes, so its visitors fall in love with the city too. Oozing with history, magnificent architecture, a stunning Cathedral, cobbled streets, boutique shops and traditional bierkellers, this is an unforgettable and charming place that is likely to steal your heart.
2. Cartagena, Colombia
Some say that Cartagena is the most romantic city in South America, and it's easy to see why. Sitting on Colombia's northern Caribbean coast, you can't help but fall in love as you walk through the Old Town's narrow cobbled streets, tropical flowers spilling down from balconies above, the infectious beat of salsa on every street corner and warm days drawing to a close as the sun dips below the horizon each night. The natural warmth and affection of the locals, coupled with an inherent love for life, is nothing short of infectious.
3. St Petersburg, Russia
A city steeped in history, legend and intrigue, St Petersburg is an unexpected yet wonderful choice if you want to whisk away your loved one. It has no shortage of romantic spots, such as the spectacular Heritage, the fairytale-like Winter Palace and the elaborately decorated Mariinsky Theatre, home to the city's best ballet and opera and a wonderful opportunity to dress in your finery. Special moments should be saved for a cruise along the Nevsky Prospect, which is equal if not better than a boat ride on the Seine in Paris. And when it comes to eating out, St Petersburg is a treasure trove of exquisite places to dine.
Russian courses in St Petersburg
4. Québec City, Canada
Québec City is one of the oldest cities in North America and as such is full of history, character and charm. It is a perfect romantic winter getaway, celebrating its Winter Carnival just before Valentine's Day – a perfect excuse to wrap up warm, play in the snow and dive into a friendly bistro for a chocolat chaud. Amongst the city's many magical spots are the Quartier Petit Champlain, an enchanting European-style neighbourhood of boutiques and cobbled streets, the magnificent Château Frontenac and the UNESCO World Heritage treasure of Old Québec. This is a place that makes you feel warm on the inside even when it's snowing outside.
5. Florence, Italy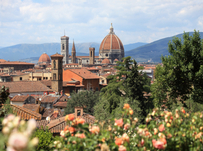 It would be impossible to talk of romance without including Italy. Although the whole country is synonymous with amour, Florence is a wonderful place to base yourself. In the heart of Tuscany, surrounded by rolling hills dotted with cypress trees and vineyards, its historic centre is a magnificent concentration of some of the world's finest art and architecture. Head for one of the city's magnificent squares, such as Piazza della Signoria and Piazza della Repubblica, which make perfect spots to sit down to a real Italian gelato and watch the world go by. Wander hand in hand through the city's cobbled streets beneath magnificent Gothic and Renaissance architecture and indulge in delicious Tuscan food by night; for a romantic couple's escape, it doesn't get much better than this.
Cactus offers language courses in locations across the world, for all ages and levels.
https://www.cactusworldwide.com/blog/wp-content/uploads/2013/09/florence_panorama.jpg
160
510
Sarah Watkins
Sarah Watkins
2015-02-11 14:30:58
2015-07-29 16:41:54
Top 5 romantic places to learn a language