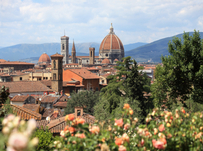 The Scoppio del Carro, which literally translates as 'the explosion of the cart' is a tradition that dates back to the first Crusade in 1099. According to legend, a Florentine nobleman by the name of Pazzino de Pazzi was the first to climb the walls of Jerusalem carrying the flag of the crusaders. For his courage, the commander and chief of the crusade, Goffredo di Buglione, rewarded Pazzino with stone splinters from the Holy Sepulchre, which he donated to the city of Florence upon his return. The splinters were subsequently used to start an annual "holy fire" during Holy Week.
On Easter morning a thirty foot antique cart (over 500 years old) is dragged from Prato al Porto to Piazza Del Duomo by a team of beautifully decorated white oxen. Once it reaches the Piazza the oxen are unhooked, and the cart is loaded with fireworks while a wire, stretching to the high altar inside the cathedral, is fitted with a mechanical dove (the "colombina"). Shortly after, during Easter Mass, the fuse in the colombina is lit, with the same splinters that Pazzino donated to the city. This ignites the cart and sets off a spectacular explosion.
According to popular legend if all goes well and the cart is exploded it will mean a very prosperous year for the people of Florence.
The Scoppio del Carro is quite something to see, and will make your visit to Florence extra special!
Cactus Language offer a variety of Italian language courses in Florence, Italy, the UK and New York.
https://www.cactusworldwide.com/blog/wp-content/uploads/2013/02/florence-duomo.jpg
151
203
Laura Lippert
Laura Lippert
2014-03-10 15:40:24
2014-03-13 10:59:41
Don't miss the Scoppio del Carro in Florence this Easter